MIDI ORCHESTRATION

«One of the many ways a composer can get a really solid idea of how orchestral-based productions will sound live is through orchestral simulation MIDI. The idea began when the composers wanted to deliver a more realistic reproduction of their compositions to the interested conductors, before signing the checks to hire the room and the musicians »
Frederick Russ
The philosophy of this course is that the student understands how libraries (samples) work, and using this information, try to get the best out of them. Taking into account that not everyone has the latest libraries with hundreds of gigabytes and super scripted, we will also talk about certain techniques to make the most of those old libraries that still have great samples. Those who have new libraries may not need to do as many programming to achieve, for example, a realistic legato.
The contents will be structured according to this script. The difficulty of achieving realism increases at each point:
Sounds without a sustain stage (percussion instruments, plucked string, staccatos, keyboard instruments)
Sounds with changes in dynamics (crescendo and diminuendo)
Sounds with articulation changes
Sounds with legato
Sounds of solo instruments
CONTENTS:
INTRODUCTION
REALISM IN MIDI ORCHESTATION – FACTORS TO TAKE INTO ACCOUNT
The DAW
The Drivers
Libraries
The Sample
Effects
Knowledge of orchestration and instrumentation
Patience and Practice
SOUNDS WITHOUT SUSTAIN STAGE
CONCEPTS
Dynamics and Timbre
Mapping samples by velocity
TECHNICAL
Velocity X Fade (Kontakt) or Track Mix
CONCEPTS
Machine Gun Effect
Round Robin (real and fake)
Tracking and Root Notes (Kontakt)
TECHNICAL
Reset RR (Play)
Fake RR (Kontakt)
CONCEPTS
Most used CCs
CC7, CC11 and Release
What can we expect from the CC11?
The Lag (Kontakt)
TECHNICAL
Real Dump Effect and MIDI
Made with CC7, CC11, CC1 and / or Release
TECHNICAL
Velocity Curve Compensation
CONCEPTS
Time Machine and Pitchbend
TECHNICAL
Lengthen and shorten Staccatos
SOUNDS WITH DYNAMIC CHANGES
CONCEPTS
Same programming philosophy
TECHNICAL
Controller Programming
MIDI Transformers
Virtual instrument programming
CONCEPTS
Loop in Group Sus (Kontakt)
Release Group
Dynamics and Timbre in Crescendos and Diminuendos
CONCEPTS
Dynamics = Velocity in Patches of a Velocity Layer
TECHNICAL
Use of CC7, CC11 or CC1 (Non-editable Players or Romplers)
Using CC1 (Kontakt or other Sampler)
Filter in Velocity or CC1 (Kontakt or another Sampler)
CONCEPTS
Dynamics = Velocity in Patches of various Velocity Layers
TECHNICAL
Use of CC7, CC11 or CC1 (Non-editable Players or Romplers)
From Velocity Layers to DXF Layers (CC1) (Kontakt or other Sampler)
SOUNDS WITH ARTICULATION CHANGES
CONCEPTS
Natural surround and ADSR
Attack and Mushy Attack Effect
Joint change
TECHNICAL
KeySwitch (one and two tracks)
Pitch Bend
Controller
MIDI channel
Program Change
Expression Maps
Colash
TECHNICAL
Multis / Combos / Layering
Use of CC1, CC7 and CC11
INSTRUMENTS WITH LEGATO
CONCEPTS
Legato groups (Kontakt)
Simulating legato
CONCEPTS
Release and Mushy Release Effect
TECHNICAL
Schedule and / or automate Release
SOLO INSTRUMENTS
CONCEPTS
Creating a Custom Instrument
Undesirable chorus effect
TECHNICAL
Speed ​​and Attack
Tuning corrector
CONSIDERATIONS
CONCEPTS
Basic Orchestral Template (real and MIDI)
TECHNICAL
With the Tempo Track
Without the Tempo Track
TECHNICAL
Script for Fake Legato
Script for Fake RR
Script for Fake Vibrato
Script to Humanize
CONCEPTS
General considerations about what orchestra instruments can and cannot play
TECHNICAL
Premix
Composing «playable» parts
How to play a virtual instrument
The approximate duration of MIDI Orchestration is 22 classes.
The classes are developed via Skype for the videoconference and we use Teamviewer to share our desktops. I also use other tools, such as a whiteboard Surface using Onenote , Staffpad and Reflector a>; a webcam that shows every detail of my hands on my digital piano; and Cubase to load libraries, record MIDI, annotate the Score Editor, etc …
& nbsp;
If you need more information, do not hesitate to contact contact with me.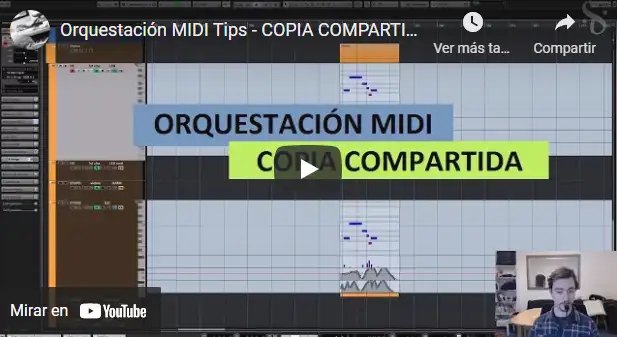 https://www.youtube.com/watch?v=HS0wxwVLLQI I want to show you today one of my most important tricks when making a Mock-up and I also tell you about the Shared Copy in Cubase … haha This technique can also be applied in Logic. In the video I...